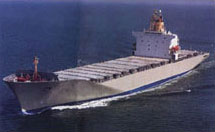 Description
The ship is designed for unrestricted, worldwide, fast container service. Below-deck containers are stowed in fixed cell guides, and a portable lashing system is provided for above-deck containers.
Holds are closed by weathertight pontoon hatches which are designed for stacking on adjacent covers. The container mix is readily adaptable to suit individual owner requirements. At the design draft of 34′-6", container capacity is 1,650 TFEU, or 1,400 TFEU plus 125 Forty-Foot Auto Frames (FAFs). The ship's stability characteristics permit a maximum of 1,910 TFEUs (or 1,650 TFEUs plus 130 FAFs), which is achieved through 4-tier on-deck container stacking. Receptacles for refrigerated containers are provided in holds and on deck in 5 of the 16 container rows.
Principal Characteristics
Class: ABS


A1 Container Carrier,

AMS,


ACCU

Length Overall: 713′-6"
Length Between Perpendiculars: 673′-1"
Breadth: 105′-8"
Depth to Upper Deck: 66′-6"
Draft (design): 34′-6"
Deadweight at Design Draft: 21,500 L.Tons
Speed at 90% MCR: 22.5 Knots
Machinery Plant
Main Engine: B&W 8180MC Slow Speed Diesel, Single Screw, 33,680 BHP (metric)
Additional Equipment
Three 2,000 KW Ship's Service Diesel Generators, one 500 KW Emergency Diesel Generator, two Turbochargers, Exhaust Economizer, Electro-hydraulic Bow Thruster, and Electro-hydraulic Steering Gear.
Navigation Equipment
Radar/collision avoidance system
Gyro-compass and autopilot
Echo depth sounder
Doppler speed log
Satellite navigation system
Loran C
Radio direction finder
Radio Equipment
1,000 watt 410-515 kHz main transmitter
VHF radio telephone Inmarsat satellite communication terminal
HF teletype
Remote Control and Monitoring
Remote control from engine control room. Propulsion machinery can also be remotely controlled from the bridge.
Fire Extinguishing
Water fire extinguishing system covering deck and accommodations. CO2 fire extinguishing system in all cargo spaces and machinery spaces.
Complement
21 crew plus 6 riding crew and owner's cabin.