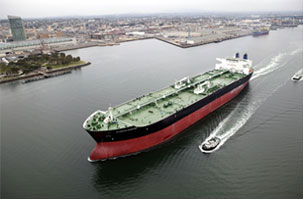 Principal Characteristics
Length Overall: 287.25M
Beam: 50.00M
Depth: 28.00M
Design Draft: 18.75M
Speed at 85% MCR: 15.3 kts.
Cargo Capacity (98%): 1,300,000 bbls
Design Deadweight: 185,000MT
Design Displacement: 220,966MT
Lightship Weight: approx. 35,950MT
ABS Classification

A1

A1 "Oil Carrier"

AMS ACCU, NIBS, DLA, SH, COW, IGS, SBT, HM2+R, VEC-L, UWILD
Trade
Designed for maximum flexibility in the transport of crude oil from Valdez, Alaska, to oil refineries located on the U.S. West Coast.
Hull Arrangement
Raised fo'c's'le deck; transom stern; bulbous bow; deckhouse aft; separate casing with twin stacks
6 X 3 cargo tank configuration plus 2 slops tanks
6 wing ballast tanks, 3 forward deep ballast tanks, and aftpeak ballast tank
2.7M double hull separation
Twin gondolas
Two high-efficiency, fully hung spade-type rudders
Quarters for 37 persons, including crew of 24
Cargo System
2 x 4,000 m3/hr main pumps
1 x 2,300 m3/hr COW pump
1,300,000 bbls bulk off-load time of < 26 hrs. with a rail pressure of approximately10 bar
Design load rate of 110,000 bbls/hr
Propulsion Plant
Twin-screw diesel-electric with total propulsive power of 20.0MW
Main engines: 4 (each) MAN B&W 6L48/60, 6.3MW, medium speed diesels giving a total installed power of 25.2 MW at 512 rpm
The diesel engines are designed to operate continuously on either Marine Diesel Oil, ISO 8217 Grade DMC, or Heavy Fuel Oil, ISO 8217 Grade RMH55 (700 cSt @ 50C)
The electric propulsion plant is an Alstom 6.6 kV system; each motor is synchronous, variable speed, reversible, brushless, double-wound and rated at 10.0MW at 85 rpm
Synchroconverters to facilitate starting and speed control of main propulsion motors
Hull Machinery
9 self-contained electro-hydraulic mooring winches
2 anchor windlass/mooring winch combinations
2 steel, high-holding-type anchors
2 cargo hose cranes; 15MT@3M outreach; 10M clear lift height; electro-hydraulic
2 provisions cranes; 5MT@6M outreach; electro-hydraulic
Navigation and Communication
Integrated Navigation Bridge System (NIBS)
Voyage Event Recorder System
GMDSS Radio System
2 dual-interswitched, state-of-the-art radar systems, one 10 cm and one 3 cm, including parallel index lines and EBL
Two differential GPS navigators
Shipboard Automation
Power Management System for automatic control of electrical power generation and distribution
Integrated alarm, control, and monitoring system for control and supervision of machinery, electrical, cargo, and ballast systems.