Click here to see City of San Diego Approved Truck Route Map for Barrio Logan
***IMPORTANT***
All independent trucker's entering NASSCO must identify as the Primer Carrier they represent. Drivers must carry a Bill of Lading to be signed as Proof of Delivery.
---
Documents and ID requirements
Driver's License
If not U.S. Citizen:
Bill of Lading
---
NASSCO Delivery Locations
---
City of San Diego Approved Truck Route
---
NASSCO Vendor Safety
---
NASSCO Yard Map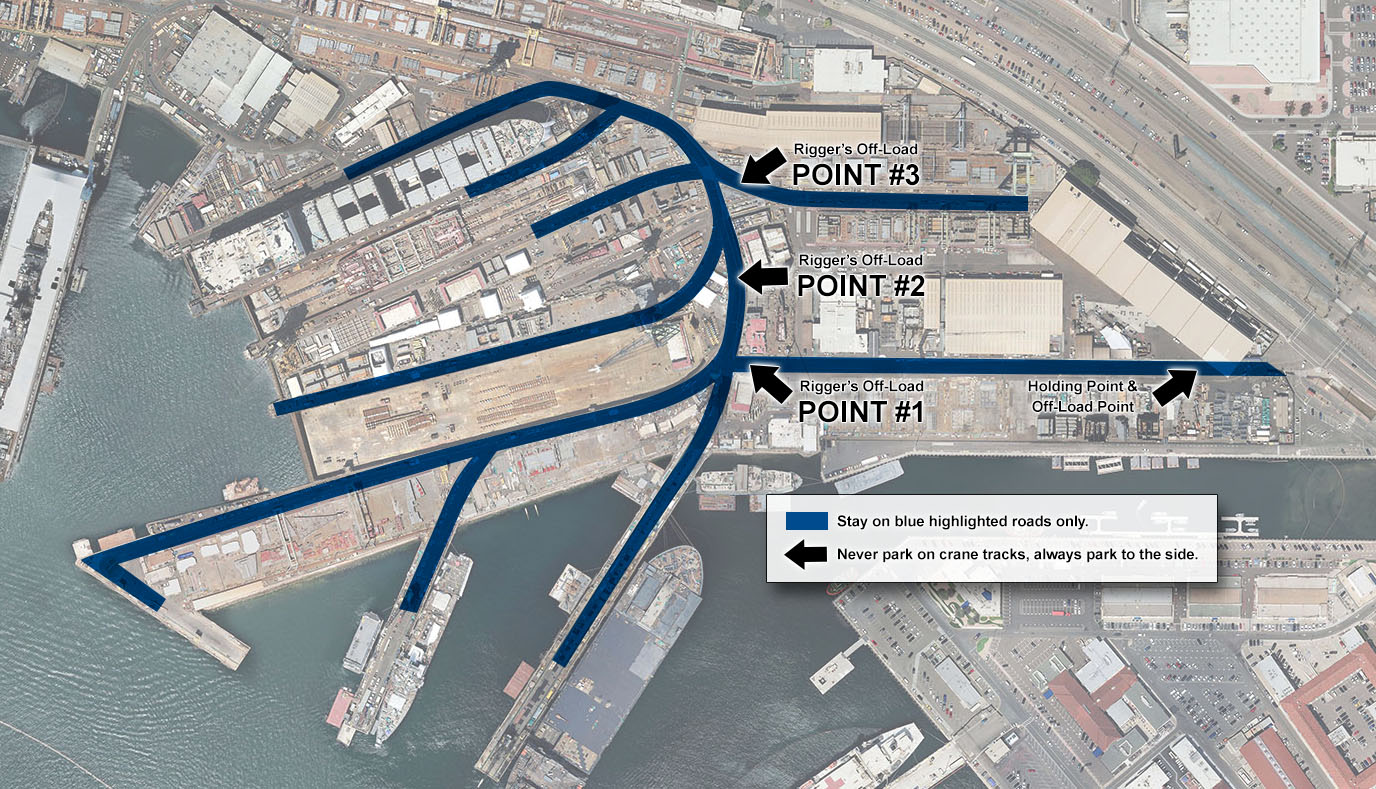 ---
Requirements for all deliveries to all NASSCO locations:
Speed Limit 5 mph max inside the shipyard and at the 15W Otay Mesa warehouse marshalling yard.
If you have a load requiring crane support, you must inform NASSCO Logistics team in advance of delivery.
Vehicle movement inside the yard is prohibited during shift changes (Hours 3:00 PM – 3:10 PM) and (Hours 12:30 AM – 12:40 AM).
Non-US persons requesting access to NASSCO facilities must identify themselves to the security guard at the gate and must remain under escort while inside NASSCO facilities.
Drivers should not exit their vehicle, except to unlatch or unbind vehicle straps. NASSCO requires a hard hat, protective glasses, closed toe shoes, shirts with sleeves, and pants be worn while inside the shipyard.
No pets, friends or family members are allowed in the vehicle when entering the shipyard.
Be cautious of several moving/fixed obstacles in NASSCO shipyard, including bicycles, forklifts, mobile cranes, carts, and mooring bollards along the pier, etc.
Forklifts and cranes have right of way.
Do not park on crane tracks or no park zone.
Never drive under a suspended crane load or raised forklift. You must vacate your truck if a crane load will pass over your cab.
---
COVID-19 Guidance
All truckers entering the shipyard must wear a facemask. Additional instructions at: NASSCO COVID-19 Guidance to Suppliers