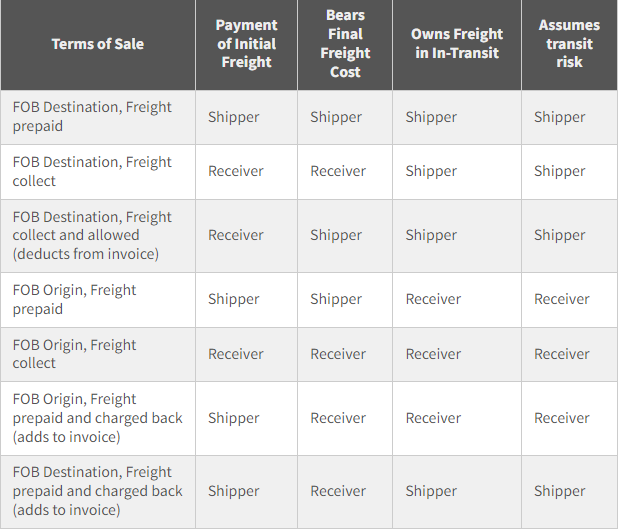 This applies to all Small Parcel, Less than Truckload (LTL) and Full Truckload (FTL) shipments.
LTL freight should be described in accordance with the National Motor Freight Classification (NMFC). Include the NMFC item number in the descriptions in order that the carrier may apply correct ratings, and to assist in initiating loss/damage claims when applicable.
1. All LTL same-day shipments should be consolidated & tendered to the same carrier on one Bill of Lading whenever possible.
2. An SDS should be provided for all hazardous materials, dangerous goods and when requested by NASSCO Logistics. They are to be packed, marked and labeled in accordance with NASSCO instructions HERE!
3. If freight charges are to be billed to NASSCO for drop shipments, third-party billed must be identified on the bill of lading. Enter NASSCO's Purchase Order number on the Bill of Lading to identify NASSCO as the responsible party for payment of the freight charge.
4. Any shipment requiring NASSCO Logistics team support must complete the MSO Form. Please request an MSO form to your NASSCO contact.
Weight
Description
Preferred Carrier and Method
0 – 150 lbs.
Small package ground service within FedEx dimensional sizes.
FedEx : Ask NASSCO Buyer for External FEDEX Login/Password and

Shipment PO/Charge Number

Note: Shipment cannot be completed without this information

DHL

Ask NASSCO Buyer for DHL Account Number and

Shipment PO/Charge Number

150 – 10,000 lbs.
Single and multiple package shipments exceeding the small package requirements by common carrier.

Must be palletized or crated cargo.

Cargo requiring crane support contact NASSCO Logistics.

For items exceeding FedEx Express (Ground) size-weight limitations, ship LTL using:

Coyote Logistics: GeneralDynamics@coyote.com

ArcBest: standobbs@arcb.com

NASSCO Logistics Team: logistics@nassco.com

> 10,000 lbs.
or > 1,000 cu. ft.
or > 20 ft. long
Material requiring special equipment, permits or crane support.
Contact NASSCO Logistics at logistics@nassco.com